Land
The focus of Activity 2.3 of the ENI SEIS II East project is on land cover mapping, and a step to facilitate the access to, and use of, some spatial data required for SEIS implementation at national level. 
This activity also allows direct links to related initiatives and programmes at the European level; namely the namely the well-established CORINE Land Cover (CLC) projec and on-going work to produce the 2018 update of the CLC layers in the EEA-39 countries, and services provided through the Copernicus Programme; the European Union's Earth Observation and Monitoring programme.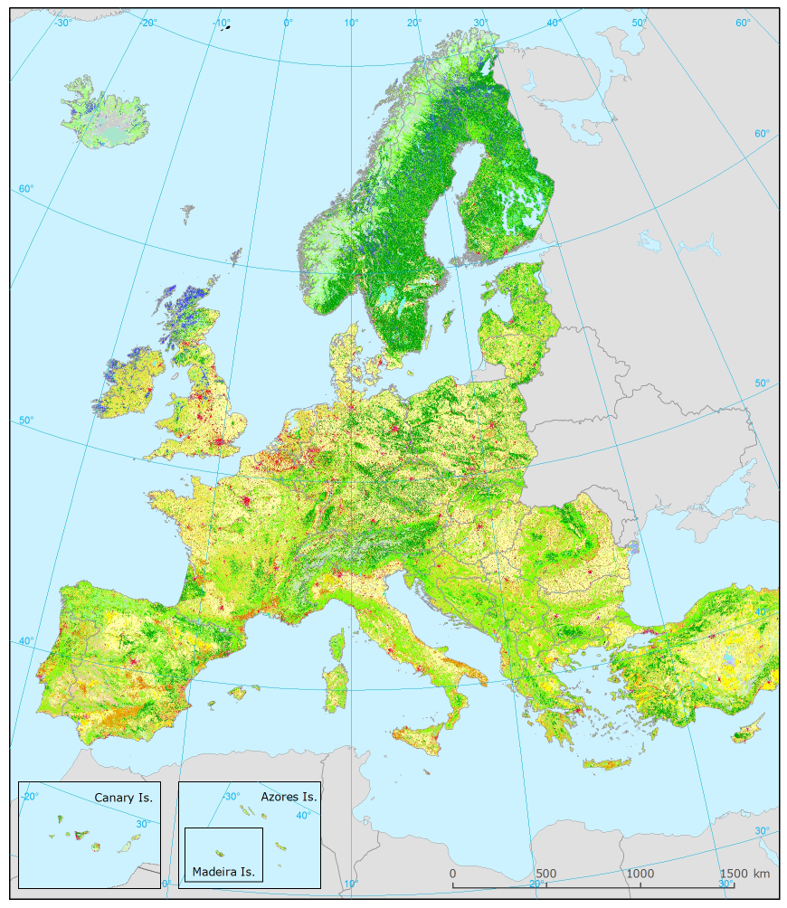 The Copernicus Land Monitoring Service provides geographical information on land cover, land use, land cover-characteristics, and changes thereof via time-series. The three main components of the Land Monitoring Service are:
A Global Component: Biophysical parameters to give a picture of the state of vegetation, the 

energy budget, water cycle, etc.;

A Pan-European Component: Data sets of land cover – land use and on land cover 

characteristics such as: artificial surfaces, forest areas, agricultural areas, wetlands, and water

bodies;
A Local Component: Focus on so called "hotspot areas". These are areas requiring a specific 

focus, such as: urban areas (Urban Atlas), river networks (Riparian Zones) or Natura 2000 sites;
The Pan-European and the Local Components of Copernicus are managed by the EEA. The CLC (2012 version and future updates) is now embedded in the Copernicus programme. All of the land monitoring products can be consulted (viewing), used (services) and downloaded (FTP) via http://land.copernicus.eu
Implementation
The main objective of this activity is to apply the CLC methodology to pilot areas in each of the six countries. For doing so, the main components will be to:
To set-up and train a National Team in each of the six Eastern Partnership countries to implement the CLC pilot exercise in their own country;
To select/agree on the area of the pilot exercise (e.g. about a 50 km x 50 km area around the capital region is proposed);
To produce a recent CLC dataset (status layer) b

y means of computer-assisted photointerpretation of satellite images and reference data;

To produce CLC-change dataset for the pilot area (i.e. map CLC changes that have taken place in e.g. a 5-10-year period).
Technical assistance (country visits to assess the feasibility to implement CLC pilots in the countries, training, software support, quality control and remote support) will be provided by the European Topic Centre of Urban, Land and Soil Systems (ETC-ULS).
The Technical Specifications for the activity are available in the document below:
Technical_Specifications_CLC_ENI_East.pdf
The EEA contact point is: 
Jean-Nicolas Poussart
Project Coordinator – ENI SEIS II East
Tel: + 45 33 43 59 07
Email: Jean-Nicolas.Poussart@eea.europa.eu
Some useful links to the EEA publications making use of the CLC data:
Landscapes in transition — An account of 25 years of land cover change in Europe, EEA, 2017, https://www.eea.europa.eu/publications/landscapes-in-transition
Land Cover Accounts (LEAC) Methodology, EEA, https://www.eea.europa.eu/data-and-maps/data/land-cover-accounts-leac-methodology-tests
Land accounts for Europe 1990-2000, EEA, https://www.eea.europa.eu/publications/eea_report_2006_11