Tunisian stakeholders discuss environmental information, 30 April 2019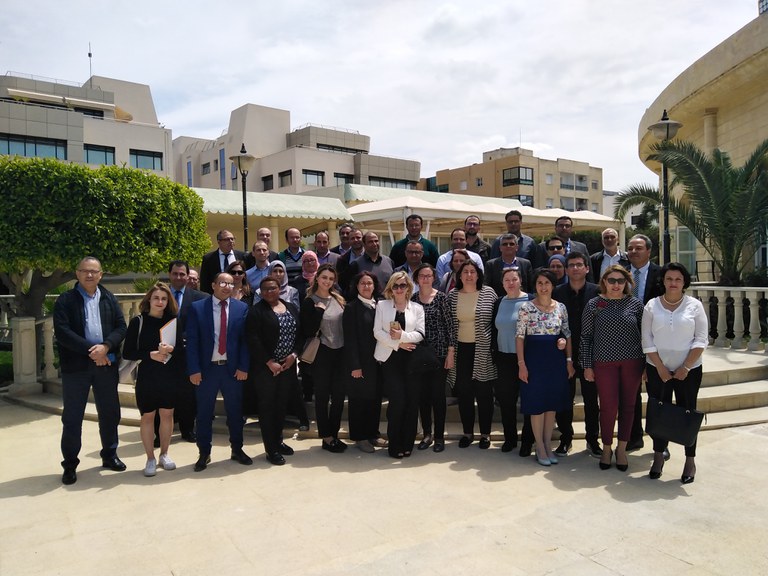 On 30 April 2019, key national stakeholders met in Tunis to take stock of the national situation regarding environmental information to support regional and euro-Mediterranean obligations. As part of the ENI SEIS II South Support Mechanism project, Tunisia set-up a national team of key partners involved in the production, analysis and use of environmental data and information, coordinated by the National Environment Protection Agency and National Statistical Institute, as ENI SEIS II South National Focal points.
This national meeting was opened by the EU delegation in Tunisia, the European Environment Agency (EEA), UN environment Mediterranean Action Plan (UNeMAP) and the General Director of the National Environment Protection Agency, gathering together representatives of all key national partners. Presentations from EEA and UNeMAP clarified the regional context and corresponding requirements as regard data, information and environment assessment to support informed policy-making processes in the region. The meeting reviewed the state of play in terms of reporting and monitoring at national level, allowing identifying gaps and difficulties as well as paths for improvement. This meeting strengthened engagement with key national stakeholders, in particular regarding provision of data and information to inform and assess progress toward the Union for the Mediterranean Horizon 2020 initiative for a cleaner Mediterranean.
 A technical meeting on Monday 29 May at ANPE premises on waste and infrastructure development issues complemented this visit.
For more information see here