Eurostat leaflet : Basic figures on the European Neighbourhood Policy-South countries — 2018 edition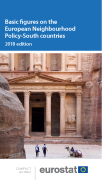 This leaflet presents key indicators in the economic and social fields collected in 2017 for the EU's southern partner countries covered by the European Neighbourhood Policy (ENP-South).
 Leaflet available here
Eurostat contributes to the European Commission's technical assistance programmes in the ENP-South countries through encouraging best practice and the transfer of know-how through mutual contacts, training, study visits, workshops and seminars; participating in the collection, validation and dissemination of a wide range of data; assisting countries in the process of harmonisation to the European statistical system (ESS)/international standards. Indeed, the ENP countries and Eurostat exchange a wide range of harmonised indicators on a voluntary, annual basis.
For more information see Eurostat ENP-South Statistical cooperation here