Important initiatives related to the project
---
First Regional Consultation Meeting  | Georgia
The first regional project meeting was held on 7 June 2016. Goals, milestones, and national perspectives were presented and synergies with other projects and international partners were identified.
This meeting took place during the eighth Environment for Europe Ministerial Conference in Batumi, Georgia.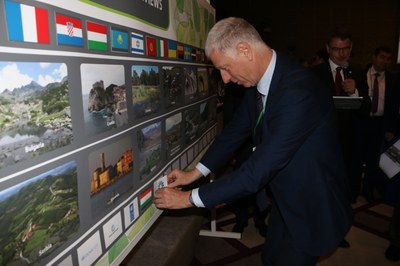 Meeting attendees included NFPs from the six partner countries, EC DG NEAR, Umweltbundesamt GmbH-AUSTRIA, Eurostat, UNECE, World Health Organization, Zoi Environment Network (framework contractor), REC Caucasus, and EEA colleagues. 
The group discussed and agreed that:
National work plans on SEIS need to be developed and endorsed by the national authorities, with country-specific activities, targets and performance indicators for implementation;

An objective that continues to be key is to strengthen the regular production, access, and use of environmental indicators as a contribution towards knowledge-based policy-making and good governance in the field of the environment.  The partner countries need to continue to work on agreed methodologies to improve the production and sharing of indicators in line with previous work with the UNECE set of environmental indicators, linking to the sustainable development goals (SDG) indicators.

Clear protocols/agreements for institutional cooperation in terms of data management should be further developed to enable regular and timely data flows (national and international), with a coherent environmental data policy for public access — a process that could be potentially overseen by inter-institutional "SEIS National Implementation Teams".

Greater emphasis needs to be placed on transforming available indicators into policy-relevant information,— thereby building capacity on indicator-based environmental assessments — by joining with a wider set of partners from different Ministries.