10-11 June 2019 | Kick off meeting for the water information system of Georgia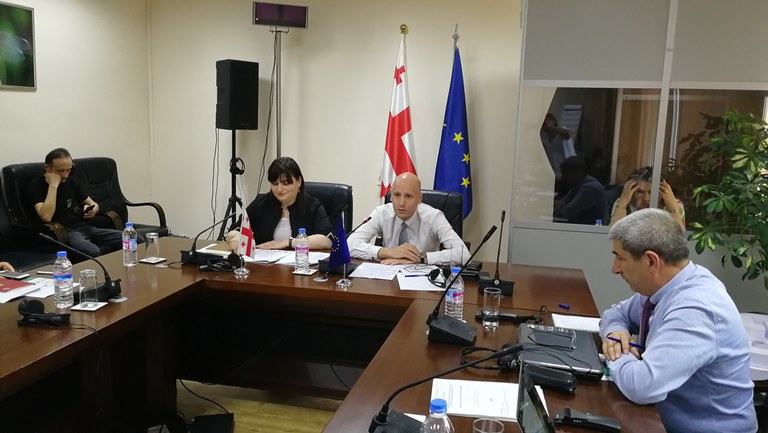 The kick-off meeting on the water information system was opened by the EU Delegation and the Ministry of Environmental Protection and Agriculture in Georgia. The aim of the meeting was to get an action plan for establishing the water component of the environmental information system in Georgia.
Integrated management of water resources requires active participation, cooperation and sharing information among many stakeholders. For that purpose, it is important to obtain relevant, reliable, robust and harmonised data that can be used to assess the state of, and pressure on, the water resource.
Only with solid information is it possible to make sound and effective policies that support freshwater ecosystems, serving many important functions from filtering, diluting and storing water to preventing floods, and from maintaining the climate balance to safeguarding biological diversity.
The meeting participants included relevant agencies of the Ministry of Environmental Protection and Agriculture, the National Statistics Office of Georgia — Geostat, the EEA, the European Topic Centre on Inland, Coastal and Marine Waters and representatives of the European Union Water Initiative Plus for the Eastern Partnership (EUWI+ 4 EaP).
It is noteworthy that the implementation of the water resource data management system is already under way within the EU WI+ project. The participants recommended that these two projects should be implemented in a coordinated manner. As a result, the optimal framework for the water information system will be developed, which will facilitate the improvement of water resources management in Georgia.
The meeting resulted in an action plan with roles and responsibilities for the provision of IT and consultancy services to the Ministry of Environmental Protection and Agriculture of Georgia. The aim is to publish a functional and publicly accessible water module in the environmental information system.
View photos of the event and the agenda.
See coverage of the event in  The Ministry of Environmental Protection and Agriculture.