21 March 2019 | The Ministry of Environmental Protection and Agriculture of Georgia met with the representatives of the Swedish Delegation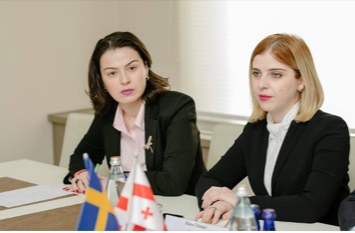 Ministry of Environmental Protection and Agriculture of Georgia
The Minister of Environmental Protection and Agriculture of Georgia, Mr. Levan Davitashvili met with the Minister for International Development Cooperation, Mr. Peter Eriksson and other representatives of the Swedish Delegation in Tbilisi, on March 21, 2019.
Levan Davitashvili stated, that the green economy is a top priority of the country, as the economic development model, which is initiated by the Prime Minister of Georgia. Legislative Acts to harmonize with the EU Association Agreement was also stressed by the Minister while highlighting issues related to the waste management code. The Minister brought forward positive changes implemented in the field of waste management and informed Swedish Delegation members with the Extended Producer Responsibility (EPR). Levan Davitashvili expressed his gratitude to Peter Erikson and noted, that Swedish Environmental Agency and International Development Cooperation Agency (SIDA) are active and strong supporters of the Ministry of Environmental Protection and Agriculture (MEPA).
According to the Minister Mr. Peter Eriksson considers Georgia as an important partner and is ready for further cooperation with Georgian side. The parties discussed possibilities of cooperation between the two countries in the field of environmental protection, namely waste management.