12-13 June 2018 | Sixth meeting of Eastern Partnership Panel on Environment and Climate Change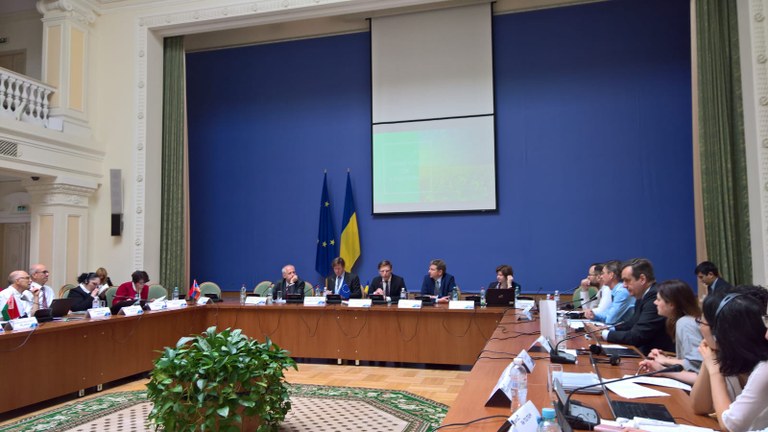 Countries:
Armenia,
Azerbaijan,
Belarus,
Georgia,
Moldova,
Ukraine
The Eastern Partnership Panel on environment and climate change was held in Kyiv at the invitation of the Ministry of Ecology and Natural Resources of Ukraine. All six Eastern Partnership countries were present - mainly Environmental ministries, as well as NGOs and Regional Environment Centres.
 The objectives of the meeting were as follows:
Take stock of the status of implementation of the Action plan adopted by the EU and Ministers of Environment of the Eastern Partnership in Luxembourg 2016;
Prepare the next EU - Eastern Partnership high level dialogue, planned for 9 October 2018, in parallel with the Environmental Council (under Austrian Presidency), with key objective to take stock of progress towards reaching the 20 deliverables by 2020;
Present and launch two new EU-funded initiatives for the next four years: EU4Climate and EU4environment and seek additional input for detailing the activities planned and ensuring synergies/continuity with the current projects/activities.
---
"The Deputy Minister Mykola Kuzio stated that "Ukraine has received an environmental strategy, which clearly specifies indicators that we must achieve by 2030" and also noted the contribution to this process and cooperation with the Open Society Foundation in the framework of the project supported by OMIDIYAR and the "Shared Environmental Information System" (SEIS) project within the framework of the EU Eastern Partnership Initiative, which promotes deepening the European Union's relations with the six Eastern Partnership countries and promotes the process of environmental protection through the strengthening of environmental governance."
 The news in Ukranian: https://menr.gov.ua/news/32468.html